For the first time….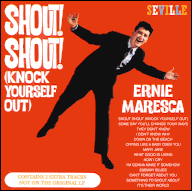 Special Guest: Ernie Maresca
For the first time in Night Prowl history, we're featuring the great sounds that came out of the East Coast, especially New York City. Matt The Cat will be joined by one of the greatest songwriters from the early 1960s, Ernie Maresca, who grew up in The Bronx and wrote Dion's biggest hits ("Runaround Sue" and "The Wanderer"). He worked at Laurie records for nearly 30 years and has lots of stories to share. Oh and don't forget Ernie had his own top 10 hit (#6) in 1962 with "Shout! Shout! Knock Yourself Out".
Thursday, September 13, 2007 7pm – midnight ET, 4pm – 9pm PT