Archive for November, 2007
THIS WEEK…It's over the R&B; river and through the soulful woods…
HARLEM
HITS
THE
ROAD
This week, Matt The Cat gets away for THANKSGIVING as HARLEM takes to America's highways, skyways and oceans. We're featuring an hour of 1950s R&B; songs about cars (Rocket 88), trains (The Train Kept A-Rolling), Boats (The Ship Of Love) and of course flying in a satellite (My Satellite by Jesse Belvin). It's all about gettin' to where you're going (Destination Love) and beyond. I just hope we don't get stuck (Flat Tire). So enjoy your Thanksgiving Weekend on the road with HARLEM on the 50s on 5.
HARLEM airs on the 50s:
Monday 11/19 @ 1pm in the East
Tuesday 11/20 @ 9pm over LA & Midnight over The Bronx
Friday 11/23 @ 6pm over Cape Cod
Sunday 11/25 @ 11am over Pensacola, FL

Remember, the stuffing goes INSIDE the turkey!
Happy Thanksgiving to all my cats n' kittens.
The Week of Nov 26th – Dec 2nd
Author Peter Guralnick Joins Matt The Cat
This week, Harlem takes an in-depth look at the life and music of the "sultan of soul", Sam Cooke. Author Peter Guralnick, who's book is called
Dream Boogie: The Triumph Of Sam Cooke
joins Matt The Cat for the story behind the story on this true soul legend. We'll look at Cooke's gospel beginnings with the Soul Stirrers through his pop breakthrough in the mid-1950s.

Harlem Airs On The 50s on 5:
Monday 11/26 @ 1pm EST
Tuesday 11/27 @ 9pm PST and midnight EST
Friday 11/30 @ 6pm EST
Sunday 12/2 @ 11am EST
A Brand New Interview with…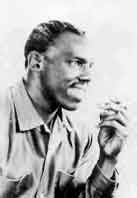 Matt The Cat interviews one of rhythm and blues' living legends, Nappy Brown. He was there for the rock n' roll revolution and did his part with his mid-1950s hits for Herman Lubinsky's Savoy Record Label. He tells the story behind the story of R&B; classics like "Don't Be Angry", "The Right Time" (which he cut before Ray Charles), "Little By Little" and "Open Up That Door", as well as some revealing tales of what it was like to tour in the 1950s and work with the miserly Lubinsky. Don't miss Nappy Brown, all week on Harlem.
Harlem Airs On The 50s On 5:
Monday 11/12 at 1pm ET
Tuesday 11/13 at 9pm PT – midnight ET
Friday 11/16 at 6pm ET
Sunday 11/18 at 11am ET
This week Harlem celebrates the great poet laureate of the blues…
PERCY MAYFIELD
This amazingly underrated singer/songwriter poured his heart and soul into every recording he made. His blues was one of pain and loss and the likes of Percy Mayfield have not been seen since his death in 1984. This week Harlem goes deep into Mayfield's early '50s output for LA based Specialty Records. His first record for Specialty went to #1 on the R&B; charts back in late 1950. You'll hear that and so much more from this influential rhythm and blues singer, this week on Harlem.
Harlem airs on the 50s on 5:
Monday afternoon 11/5 @ 1pm EST
Tuesday night 11/6 @ 9pm PST & Midnight EST
Friday evening 11/9 @ 6pm
Sunday morning 11/11 @ 11am