Archive for November, 2009
Go Now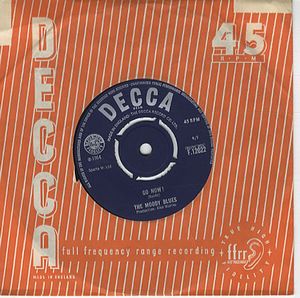 This week, the Cat Fight takes on the song, "Go Now." It was originally recorded by female American R&B; singer, Bessie Banks and it became an international hit when the British R&B; group, The Moody Blues released it in early 1965. Listen to both versions of this classic tune back to back and then vote for the one you truly dig the most on the "World Famous" Friday Night Cat Fight!
"Get Out Of My Life Woman"
This week, our Friday Night Cat Fight is a 4-way over the classic soul/funk tune, "Get Out Of My Life Woman". The tune was written by New Orleans legend Allen Toussaint and originally recorded by fellow New Orleans legend, Lee Dorsey in 1966. Solomon Burke, Joe Williams and even Toussaint himself have recorded great versions of the tune. Many others have covered it, but I think these FOUR stand on their own. NOW, which one do YOU dig the MOST? Listen to the podcast and vote for your favorite.
Buddy Holly
Not Fade Away: The Complete Studio Recordings And More
Release date: 11/24/09

Collectors rejoice! Buddy Holly FINALLY gets the box set treatment that he's long deserved. Many sets have come out over the years, but each one either focused on the rare and previously unreleased tracks or the hit material. Hip-O Select, the reissue imprint of Universal Music, finally puts Buddy's music to rest with a box set that spans everything he ever recorded from age 12 to 22 in Buddy Holly: Not Fade Away: The Complete Studio Recordings And More.

When I say "everything," I of course mean nearly everything, as a stray alternate take might have escaped the compiling clutches of Andy McKaie. This box set is stunning and the look and feel of it will grab you before you even put one of the six CDs into your machine. It's a replica of a hard bound yearbook, featuring 80 large pages of pictures, two essays and track by track annotations. The six CDs are housed at the back and each CD label replicates a Decca, Brunswick and Coral 45 rpm record label from the era. The six discs are packed with 203 Buddy Holly classics and yes, they are all classics.
We are SO LUCKY that the tape of a 12 year old Buddy Holly singing Hank Snow's "My Two-Timin' Woman" still exists so we can hear where it all began. As disc one progresses, we get a glimpse of Buddy's musical inspiration and it's no surprise that Buddy was motivated by the same musical forms that would fuse the forthcoming rock n' roll; country and rhythm & blues. Remember, this is years before Elvis Presley and even Bill Haley, yet all three artists and many others would follow the same musical path toward rock n' roll. It's like there was a musical wind sweeping through America, inspiring all these young musicians who were looking for something new. Buddy was obviously a very talented artist from the beginning and we hear this in his early recordings with friend, Bob Montgomery, which were made at the Holley (Correct spelling of his name, Decca would spell it wrong on his first record and it stuck) Family Home in 1952-3. Buddy had the chops and inspiration, all he needed was a "spark." That "spark" ignited when Buddy and Bob shared the bill with a young Elvis Presley in 1955. After seeing Elvis, Buddy's musical direction changed as he moved further away from straight Country Music and more toward a new Rockabilly hybrid, infused with rhythm & blues. Most of these early Buddy and Bob recordings have been officially released (on Down The Line: Rarities, which I reviewed earlier this year here), BUT we do get a handful of previous unreleased goodies that Buddy and Bob cut in August of 1955 in their hometown of Lubbock, Texas. Sonny Curtis is even heard playing guitar and fiddle on a few of them. Sonny would soon join Buddy in his first Crickets group.
In early 1956, Buddy began his professional recording career with his first session for Decca Records. Owen Bradley was producing and even though Decca considered the first session a failure, some of Buddy's best songs were recorded during this time. He cut "Midnight Shift," "Blue Days, Black Nights" and "Don't Come Back Knockin'" during this first session, while the first version of "That'll Be The Day," "Rock Around With Ollie Vee" and "Girl On My Mind" would be cut at his 2nd Decca session in July of 1956.
He would have three sessions for Decca in all, but no one seemed very impressed with the results, even Buddy, who was not thrilled with how Decca had handled him. He actually made an attempt to get the rights to his songs, so he could shop them around to another record company. I think this fact speaks volumes as to where Buddy's head was at this time. He knew he deserved better than what Decca was giving him and he wanted to go elsewhere. Buddy was told that Decca owned all the songs that he had cut for them and they were not going to turn them over to him. We end 1956 with a few previously unreleased gems that were recorded in Buddy's Lubbock garage. These are some of the greatest musical moments on the entire box set as Buddy has never sounded more energetic and joyful as he covers the rock n' roll classics of the day.
1957 is Buddy's breakthrough year and it kicks off with a bang, as the Crickets head out to Clovis, New Mexico to record with producer Norman Petty. The #1 hit "That'll Be The Day" and top 10 hits, "Peggy Sue" and "Oh Boy" were recorded in 1957 as well as "Maybe Baby," "Not Fade Away," "Everyday" and "Words Of Love." What a year! I counted fifteen different recording sessions that were held during 1957, showing what kind of a workaholic Buddy Holly was.
1958 was another marathon year of recording for Buddy and the Crickets. The last recording session with the Crickets was help on September 10, 1958 in Clovis, NM. By October 21st, Buddy was a solo artist, back in New York City and recording with an orchestra. "True Love Ways," "It Doesn't Matter Anymore," "Raining In My Heart" and "Moondreams" were cut during this session and remain some of Buddy's most inspired and beautiful songs. Thankfully, this box set contains both the stereo and superior mono mixes all four of songs.
Many songs on the set contain alternate versions. Some are alternate takes, like in the case of "Peggy Sue" and "Not Fade Away". However, on a few songs, we get to hear the evolution and progression as Buddy worked on the tunes. The two slow versions and one fast version of "Slippin' And Slidin'" really stand out as do the three progressive versions of "Think It Over" and four versions of Bo Diddley's "Mona".
Weeks before Buddy's tragic death, he recorded quite a few demos on a reel to reel deck in his New York apartment. These recordings have long been called "The Apartment Tapes" and collectors have gathered what they could over the years. Finally, we have them all in one place, sounding better than I've ever heard them before. If you've ever wanted to be in a room with Buddy Holly, this is your chance. They are so intimate and I swear you can hear the joy in his voice as he plays these demos with his new wife Maria Elena looking and listening on. These apartment tapes are Buddy's final recordings and they were made just before he headed out on the fateful Winter Dance Party Tour. Many of the "Apartment Tapes" would see release throughout the 1960s as producer Norman Petty added overdubs and Coral and MCA continued to release Buddy Holly LPs. Some people have issues with these overdubs as Petty brought in the Fireballs to add musical accompaniment to Buddy's original demos. In most cases, the original demos are better, but you can't deny that the Fireballs really make tracks like "Holly Hop" and "Slippin' and Slidin'" come a
live.
All of these overdubbed recordings have never been so completely compiled as they are here, so neatly on Not Fade Away: The Complete Studio Recordings And More. If you don't have the original 1959 Coral single or 1960 LP, The Buddy Holly Story, Vol: 2, try finding nuggets like the versions of "Peggy Sue Got Married" and "Crying, Waiting, Hoping" with the Ray Charles Singers on background vocals. These tunes have been out-of-print for a long time and it's great to finally hear them on CD.
Is there anything that this set is missing? Well, if you push me, I'll say that a DVD with rare video footage would have been a nice addition, BUT this is a musical journey, so I can see why they kept it nice and simple. Bill Dahl wrote some stunning liner notes and you can hear the love and respect that was put into the compiling of this fantastic set. Hip-O Select is the only American reissue label that still reissues music from the 50s and 60s in exciting and complete packages. Stop by www.hiposelect.com and look at their amazing reissue catalog.
Buddy Holly created more amazing and influential music in the short span of 3 years than nearly anyone else in history and finally, we have a giant box set that proves this point and closes the book at the same time. Rave on!
-Matt The Cat