Archive for July, 2006
Cats n' Kittens,
Here are the latest 78s added to my collection. OK, this is getting out of hand. I'm going to try and take a break from buying 78s for a while and just stare at my Sun 221. Here are some label scans, if you're interested in checkin' 'em out.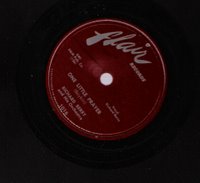 The
KING RECORDS STORY
Syd Nathan launched KING RECORDS in 1944 as a country & western label in his native Cincinnati. He controlled every aspect of the business from recording, record pressing, album jacket printing and even distribution. He got into the R&B; market in 1947 with the signing of Bull Moose Jackson. For the next 2 weeks, Matt The Cat digs deep into the satellite vaults to feature the hit, misses and influence of this "king of all labels". There will be vocal group sounds from The Midnighters, The Swallows, The Dominoes and the "5" Royales as well as down-home R&B; from Bull Moose, James Brown, Little Willie John and Freddy King. This is part 1 of a 2 part special on The King Records Story.
Harlem Airs on the 50s on 5:
Monday 7/10 @ 1pm EST
Tuesday 7/11 @ 9pm PST and midnight EST
Friday 7/14 @ 6pm EST
Sunday 7/16 @ 11am EST
West Coast Wednesday:

Along with the great West Coast sounds of West Coast Wednesday, The Night Prowl will also:
-Celebrate rock n' roll history as we commemorate the 52nd anniversary of Elvis, Scotty and Bill's first session at Sun Records (July 5, 1954). We'll hear all the songs recorded during that session.
-Ernie K-Doe dies on this day in 2001.
-Smiley Lewis was born on this day in 1913.



Bill Haley Thursday:
Tonight we honor Bill Haley on what would have been his 81st birthday with a re-airing of an interview I did last year with author Jim Dawson. Jim's book "Rock Around The Clock" traces the long history of Bill Haley's biggest hit from the 1920s up to Bill Haley's 1954 recording. Get the story behind the story on one of greatest recordings in history.
Also, The Duke Of Earl, Gene Chandler turns 69 today.