Archive for April 9th, 2006
Monday Night: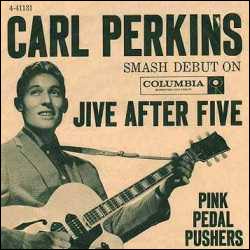 Rockabilly hero Carl Perkins was born on April 9, 1932 in Tiptonville, TN. He had the voice, guitar ability and songwriting nohow to make him a rock n' roll star, but why wasn't Uncle Carl bigger then Elvis? It was not in the stars. What is in the stars, however, is a nice tribute to Carl Perkins, Monday Night on the Night Prowl show.
Brook Benton died on April 9, 1988, so we'll honor him too.
Chuck Willis, the king of the stroll died on April 10, 1958 and Little Eva died on April 10, 2003, so we'll honor them as well.

Bluesday Tuesday Night:

Bluesday Tuesday, we salute one of rock n' roll's most underrated artists, Richard Berry. He was born on this day, April 11, 1935 in Extension, LA. His family moved to LA during his childhood and he became an integrated part of the Los Angeles R&B; scene, having sung with his group The Flairs, with The Robins and Etta James by the time he was 20. Join us, as we pay respects to the guy who did a whole lot more then just write the original "Louie Louie" on the Tuesday Night Prowl Show.