Harlem
We remember

Atlantic Records

co-founder

Ahmet Ertegun
…
The

Atlantic Records

Story
Part One
Atlantic Records was the most important R&B; record label of all time. This week on Harlem, you'll get the back story on how Atlantic signed Ruth Brown, The Clovers & Professor Longhair through a vintage interview with the late Atlantic co-founder Ahmet Ertegun. Atlantic began in late 1947 with a number of killer jazz releases before they scouted out and signed their R&B; talent; Ray Charles, Chuck Willis & Ivory Joe Hunter. This is PART ONE of a two part series on Atlantic Records, only on HARLEM.
Harlem airs on the 50s on 5:
Monday 9/29 @ 1pm over Washington, DC
Tuesday Night 9/30 at 9pm PST & midnight EST
Friday 10/3 @ 6pm over Boston
Sunday 10/5 @ 11am over NYC
This week Billy Vera co-hosts as Harlem features…

The Savoy Records Story

Savoy Records is primarily known as a jazz label (with such artists as Charlie Parker, Charles Mingus and Lester Young on its roster), however, Savoy made quite a contribution to 1950s R&B; and Rock n' Roll as well. This week, music historian, singer and all around groovy guy, Billy Vera co-hosts the show with Matt The Cat to bring you the amazing story behind the story of this legendary record label.
Catch Harlem on the 50s on 5:
Monday 9/22 @ 1pm over Newark, NJ, where Savoy Records was founded.
Tuesday 9/23 @ 9pm over Dolphins of Hollywood and Midnight over Times Square Records
Friday 9/26 @ 6pm over Augusta, GA
Sunday 9/28 @ 11am over Charlotte, NC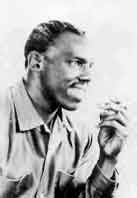 Matt The Cat interviews one of rhythm and blues' living legends, Nappy Brown. He was there for the rock n' roll revolution and did his part with his mid-1950s hits for Herman Lubinsky's Savoy Record Label. He tells the story behind the story of R&B; classics like "Don't Be Angry", "The Right Time" (which he cut before Ray Charles), "Little By Little" and "Open Up That Door", as well as some revealing tales of what it was like to tour in the 1950s and work with the miserly Lubinsky. Don't miss Nappy Brown, all week on Harlem.
Harlem Airs On The 50s On 5:
Monday 9/15 at 1pm ET
Tuesday 9/16 at 9pm PT – midnight ET
Friday 9/19 at 6pm ET
Sunday 9/21 at 11am ET