Archive for September, 2008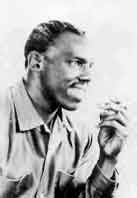 Matt The Cat interviews one of rhythm and blues' living legends, Nappy Brown. He was there for the rock n' roll revolution and did his part with his mid-1950s hits for Herman Lubinsky's Savoy Record Label. He tells the story behind the story of R&B; classics like "Don't Be Angry", "The Right Time" (which he cut before Ray Charles), "Little By Little" and "Open Up That Door", as well as some revealing tales of what it was like to tour in the 1950s and work with the miserly Lubinsky. Don't miss Nappy Brown, all week on Harlem.
Harlem Airs On The 50s On 5:
Monday 9/15 at 1pm ET
Tuesday 9/16 at 9pm PT – midnight ET
Friday 9/19 at 6pm ET
Sunday 9/21 at 11am ET
Harlem Takes A Trip…


Nashville has always been known as the home of country music, but this week HARLEM turns Music City into a rhythm & blues mecca. After all, Nashville was the home of one of R&B;'s greatest labels, Excello Records. You'll dig great sides from Arthur Alexander, Rudy Green and Gene Allison just to name a few. It's Nashville like you've never heard it before, this week on HARLEM.
Harlem Airs on the 50s:
Monday 9/8 @ 1pm and noon in Nashville
Tuesday 9/9 @ 9pm over LA & Midnight over NYC
Friday 9/12 @ 6pm EST
Sunday 9/14 @ 11am EST
The great Dale Hawkins joins Matt The Cat for an incredible Night Prowl Show on Tuesday, September 9th at 8pm ET. Dale will share stories about the wild days of early rock n' roll and what it was like recording iconic classics like "Suzie Q", "Don't Treat Me This Way", "Cross-Ties" and "La Do Dada" just to name a few. The Rock & Roll Tornado, Dale Hawkins blows into the Night Prowl Show this Tuesday! Don't miss it!